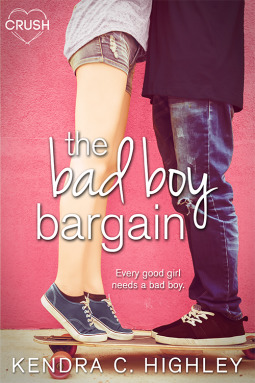 faith gladwell is a good girl. she's driven by her passion for theater and dance, and is not quite happy in her relationship with a handsy football player as
the bad boy bargain
opens. meanwhile kyle sawyer has done everything in his power to cultivate the image of a bad boy. but he's a bad boy with secrets, his biggest one being that he is in no way, shape or form a bad boy--the rumors about him at school are just that. rumors.
when faith's handsy boyfriend cheats on her at a party and publicly dumps her and starts spreading rumors about how she is a cold-hearted bitch, she knows she has to do something to take control of the situation. it just so happens that another of kyle's secrets is that he owns a successful gardening and landscaping business and he has been hired by faith's mother to re-do their yard. when faith proposes faking a relationship to change the narrative, kyle agrees in spite of himself. he and cameron have a history, one that informs who the person kyle pretends to be in the present day.
as faith and kyle get to know each other a couple of things happen. one, they have crazy chemistry, faith is stunned by how attracted she is to kyle. she had never had any interest in sex with cameron, but with kyle things are different. kyle is just as attracted to faith, except he is actually terrified, because contrary to the relationship rumors he has cultivated at school, he has no relationship history and faith is the first person he's wanted to pursue something with since middle school. two, both faith and kyle struggle with insecurities and trust. this feels so authentic to me. they misinterpret each other's silences and miscommunicate all the time, but it's because they feel too much, too strongly. and it's terrifying to trust your heart in someone else's hands. especially when you've been burned before.
when kyle comes through for faith in a really big way, he tears down the pieces of armor that had been helping him cope with school and his insecurities. in the end this is a super sweet young adult romance. i loved faith and kyle and i loved their story.
**the bad boy bargain
will publish on november 14, 2016. i received an advance reader copy courtesy of netgalley/entangled teen (crush) in exchange for my honest review.